Prayas Energy Group and Pune International Centre (PIC) jointly organized a roundtable on "Electricity For All: Challenges and Approaches" on 18th February 2012 at Yashada in Pune. Union Minister of Power, Shri. Sushil Kumar Shinde was the chief guest while veteran social leader Shri. N. D. Patil was the chairman. Dr. Pramod Deo, Chairman CERC and Shri. Ashok Lavasa, Additional Secretary, Ministry of Power were also present. The main agenda was to discuss challenges and approaches to ensure electrification for all households in India.
RGGVY, using GoI resources, is extending grid and electrifying BPL households, but the responsibility of making power available to them rests with distribution companies. However, for each unit supplied to such consumers, the distribution company makes a loss (of around Rs. 4 / unit) and thus there is a disincentive for the distribution company to supply to such households. Current and past financial losses of Distribution companies and the quantum of revenue increase needed to meet 100% electrification goal, makes it impossible to recover this loss through tariff increase.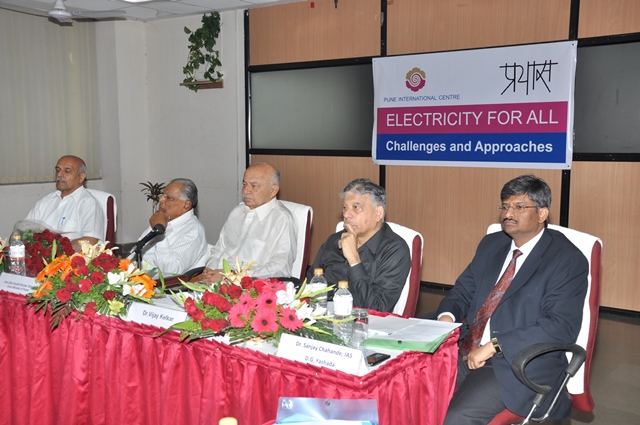 RGGVY has successfully created distribution lines covering nearly the whole country. But if there is no power supply, the objective electricity for all would not be met. To ensure power supply, it is essential to address disincentive for the Distribution Companies to supply to rural areas. At the event, Prayas Energy Group proposed that low cost power be reserved for rural supply so that there is no disincentive for the distribution companies. The scheme would result in the provision of low cost power supply to 70 million households in backward areas, accounting for 25% of population. This will catalyse rural development with significant positive impact on economic development.
The Minister recognised the importance of providing quality supply to rural households. In order to ensure this, he said that allocation of coal blocks for RGGVY, suggested by Prayas is a feasible idea. 'Coal Allocation from captive coal blocks for RGGVY is an option which I will discuss with the Coal Ministry', he said.